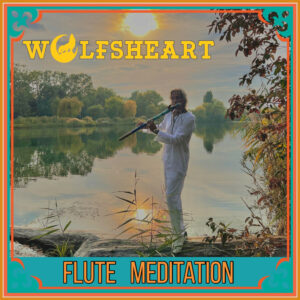 15-Track Collection Of Wolfsheart's Best Songs for Meditation
The new compilation delivers a meditative and deep tracks that originally appeared between 2010 and 2020 on five Wolfsheart studio albums.
Known for his onstage warmth, he brilliantly conveys passion and elegance of expression through his beautiful flute playing.
the gentle melodies of echoing flutes envelop the listener and transport them to a place of inner calm and balance.
Flute Mediation create the perfect soundscape for developing inner peace through mediation and the healing arts.
A gorgeous collection of flute music – great for meditation, dreaming, yoga, zen, chill out, sleep, relaxation!
01 Spiritual Harmony 2:14
02 Mountain Of Seven Colors 4:07
03 Sunrise At Four Corners 5:05
04 Flight Of The Condor 5:08
05 Breath Of My Soul 5:42
06 Heartbeat 5:23
07 Kokopelli Dreams 5:02
08 Your Spirit Voice 6:43
09 F.L.O.W. 6:00
10 Time Of Change 5:09
11 Snow Falling In Silence 3:43
12 The Call Of The Canyons 5:23
13 Wings Of Love And Peace 4:01
14 Turquoise Crystal 4:40
15 Come To The Fire 5:26