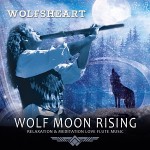 The winter inspired album features twelve new, original songs and one spoken-word composition consisting of beautiful instrumental arrangements with an indigenous flavor. This album might become one of your favorites – not only during the holiday season, but all year round.
This soulful contemporary instrumental recording, that blends Native American flutes, synthesizers, piano, strings, chimes, percussion, bells and nature sounds and some voice is Wolfheart's third solo album and was produced, composed, arranged and performed by Wolfsheart and Gigi Skokan.
The January full moon got its name "Wolf Moon" from the wolves that used to howl outside the Indian villages on cold, snowy, winter nights…
The sound landscape invokes the atmosphere of white snow, the lighting of fires and of dreamy melodies which are a musical tribute to the spirit of winter and take the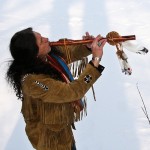 listener on a spiritual and emotional journey.
The peaceful and soothing collection of contemporary music with the enchanting sound of the Native American Flute and instrumental renderings of meditative and relaxation tunes is perfect for creating a seasonal atmosphere for some quiet, cozy winter evenings.
"When snow blows like spirits in the wind" …
this album of hauntingly beautiful songs will bring a sense of peace, calm and harmony to crackling fires at home.
Label: G.I.Records
Released : 2012
Reviews and comments:
"I have listen to one of the most Awesome & Amazing Albums for mediation or anytime you just want to relax or work in a very calm & composed atmosphere."
» The Dawn Of Music
"This is one of the best CDs I have come across in the Native American genre and congratulate Wolfsheart on this magnificant CD. Each song tends to invite you on a journey of mystical, magical and relaxing music…"
» Aries' Era Radio
"The very haunting music of "Wolf Moon Rising" takes us into the most secret places of mother nature. Throughout the album you feel immersed in a variety of different musical styles. In addition to the relaxing and enchanting songs shared on the album…"
» Radio Wicca
"Wolfs Moon Rising is feeling the spirit awaken within, rising us up to the moon and then returning us to our current journey refreshed and uplifted. Beautiful!…"
» Law of Attraction Radio Network
"The connection between Man and Spirit has never been more evident than through the music he pours from his soul….his flute…linking together with places we sometimes can only dream about. This latest CD, "Wolf Moon Rising" will take you to times long forgotten"
» bear Medicinewalker
"This album tastefully brings together native american flute and more modern song arrangements to bring about an endearing musical journey that stays long after the music stops playing…"
» Pagan Poet Radio
"A sublime blend of sounds combined with the sounds of nature and the harmony of the Native American flute carries the heart and mind of the listener in a soothing journey in the midst calm and serene landscapes tinged with peace and sacred…"
» Radio PLENITUDE
There is really only one way to put this – the work on this great CD is the best Native American flute work I've heard in the last five years! I give this one a MOST HIGHLY RECOMMENDED, with an "EQ" (energy quotient) rating of 5.00. That also earns it the "PICK" of this issue for "best Native American flute works.."
» Improvijazzation Nation Magazine
"Wolf Moon Rising is great for those quiet moments in your day, or as background music enhancing the mood of any gathering. More a Winter CD then a Christmas CD, the music is ideal for any time of year. Wolf Moon Rising is a treat for body, mind, and spirit."
» Katie Tall Feathers, WRIR lp 97.3 fm
"Wolf Moon Rising is a holiday album that embraces the spirit of winter. The beautiful music sets the stage for an image to be painted of a perfect native winter scene…"
» Pagan Radio Network