WOLFSHEART SIGNATURE FLUTES

Native American Style Wooden Flutes designed according
to the special wishes and specifications of Wolfsheart.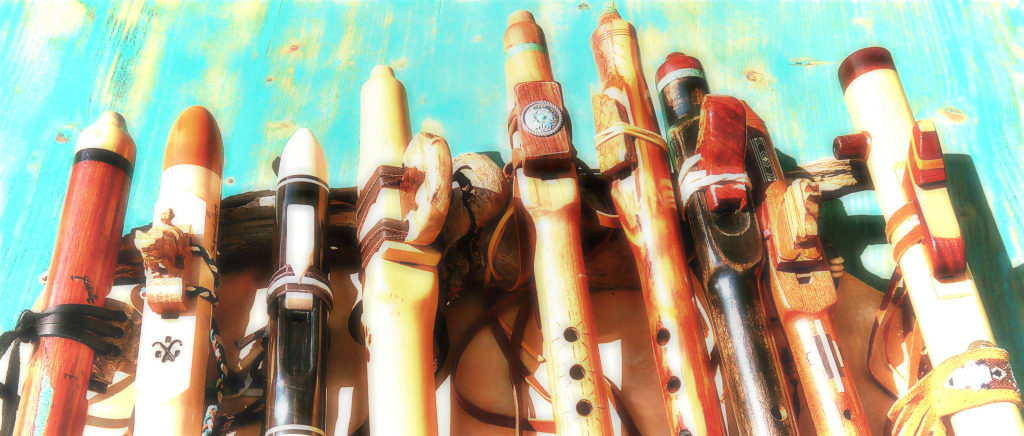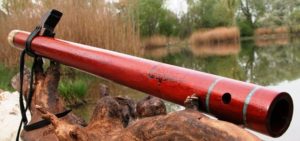 The first Wolfsheart Signature Flute series is ready to be released!
I have teamed up with Master flute maker Jadon Smith of NIPOMO FLUTES to bring you this beautiful flute series.
This exquisite, high caliber instrument and Limited Edition collectors item has a exceptional design.
The flute in the traditional key of F Minor (heart chakra) has a soft, woodsy voice, and is concert tuned to perfection.
This piece of art is made from Padouk (the red color symbolizing the heart) with a Buckeye Burl mouthpiece and turquoise rings.
The beautifully handcrafted wolf is made of Bacote.
The wolf is symbolic of deep connection with instincts and freedom.
Every one has the Wolfsheart signature engraved and come with a soft bag.
The flute plays and sounds incredible.
Price: $250 including shipping – distributed international

Amazing Sweet Cherry flute in G tuned to concert quality standards, very nice and easy to play, she sound is clear and pristine, but also soft and round at the same time! Raffaello Hendrickx puts heart and soul in handcrafting his flutes and they beautiful in their simplicity.
In addition to that this flutes have a windshield designed in the block. It is the two parallel extensions coming out of the down side of the block protecting both sides of the 'True Sound Hole'. This design makes enjoyable to play and perform outdoors. I highly recommend Prana Flutes from Belgium.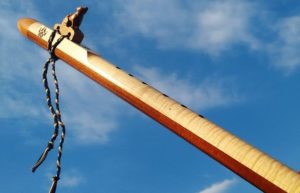 I´m collaborate with United Kingdom based flutemaker Red Kite Flutes.
They always produce custom flutes keeping the individuals personality and tastes in mind, and this great RKF Signature 'Wolfsheart' flute is no exception. Made from strong, earthy timber tones this contrasting E flute is Rippled Sycamore with Mahogany and a Carretto mouthpiece with a hand carved Brown Oak Wolf totem with real Turquoise inlay in the shape of a heart. It is also has a wolf's paw logo
🐾 with inset heart drawn using pyrography. She have a great dynamic range and a soft and soothing sound .
🐺
They special Wolfsheart flute made from Tony Francis 2 Bears Flutes is from Alaskan Yellow cedar with burn Wolf tracks up the flute and a stylized wolf head for the totem. (top quality domestic and exotic wood) This very special woodwind instrument in the key of C # is tuned to 440 at 72 degrees and has a very nice mellow sound.
Very nice Concert tuned Flute!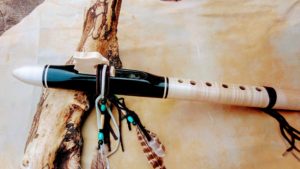 The exclusive WAHAJO flutes are 100% handmade in Germany with great attention to detail.
The unique combination of precious woods and the professional processing give every flute its magical sound, that touches you deep in the heart. The Wolfsheart flute was made from jet black ebony and light flamed maple, and is an expression of elegance, clarity, gentleness but also assertiveness. Every flute is unique
and a companion for life.
Another beautiful Wolfsheart flute comes from Tras La Senda De Los Ancestros from Spain.


It´s made of sapeli and walnut wood and decorated with beautiful motifs. The very special totem, reminiscent of the beautiful and powerful creature Wolf, made of zebrano wood and at its base the figure wears a heart in red cedar. The power of the heart combined with the power, beauty and mystery of the wolf, so that every time its melody sounds, it reminds us of the two greatest powers that exist: those of the heart and those of nature.