BOOKING
Native American Flute Player/Award-Winning Recording Artist, Wolfsheart, performing for a variety of functions from concerts, conventions, multicultural events, festivals, churches, schools and encampments.
He also offer a dynamic and informative children's program.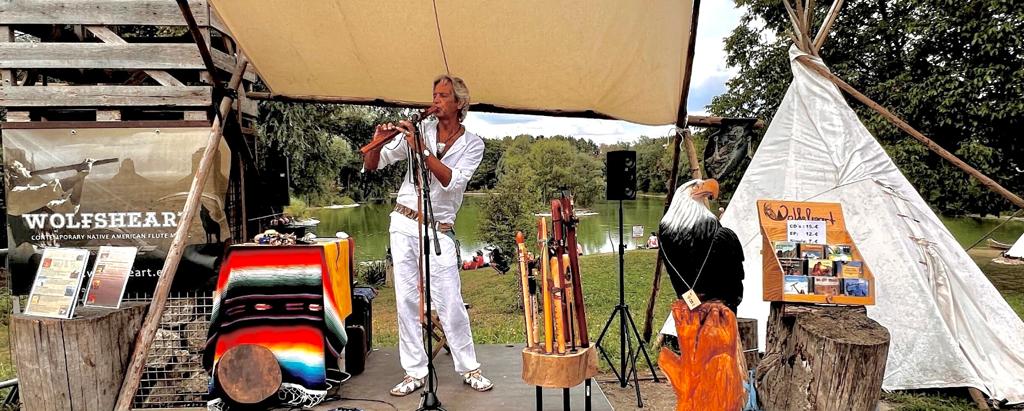 Concert Performances:
Booking Information Europe:
BCI – Music Entertainment:
phone: +43 (0) 699 125 460 85
office@wolfsheart.eu
U.S. Booking Agency:
Donald Blackfox
CEO Spirit Wind Entertainment Group:
spiritwindrecords@live.com
www.spiritwindrecords.us
Privacy Policy
Cookies
Essential cookies
PHPSESSID
This session cookie comes from PHP and is used to set up a user session and forward status data through a temporary cookie, commonly called a session cookie (expires when you close your browser).
Duration: only during the current session
pll_language
Used by Polylang to remember the language selected by the user. Does not collect personal data.
Duration: 1 year
borlabs-cookie
Saves the visitors preferences selected in the Cookie Box of Borlabs Cookie.
Duration: 1 month
YouTube
We embed videos from YouTube using YouTube's privacy-enhanced mode. This mode may set cookies on your computer once you click on the YouTube video player, but YouTube will not store personally-identifiable cookie information for playbacks of embedded videos using the privacy-enhanced mode. To find out more, please visit YouTube's privacy policy (YouTube is a service from Google).
1P_JAR: Used to optimize advertising on Google DoubleClick to provide ads that are relevant to users, to improve campaign performance reports, or to prevent a user from seeing the same ads multiple times.
Duration: 1 month
ANID: Target Ads/Remarketing
Duration: 18 months
CONSENT: Used to track the user's consent and to avoid repeating the brief disclosure in future pages or future visits.
Duration: 19 years
GPS: Registers a unique ID on mobile devices to enable tracking based on geographic GPS location.
Duration: 1 day
IDE: Verwendet von Google DoubleClick, um die Handlungen des Benutzers auf der Webseite nach der Anzeige oder dem Klicken auf eine der Anzeigen des Anbieters zu registrieren und zu melden, mit dem Zweck der Messung der Wirksamkeit einer Werbung und der Anzeige zielgerichteter Werbung für den Benutzer.
Duration: 1 year
NID: Used by Google DoubleClick to register and report the user's actions on the website after displaying or clicking on one of the provider's ads, for the purpose of measuring the effectiveness of an advertisement and the display of targeted advertising to the user.
Duration: 6 months
PREF: Registers a unique ID that Google uses to keep track of how the visitor uses YouTube videos on various websites.
Duration: 8 months
test_cookie: Used by Google DoubleClick to verify that the user's browser supports cookies.
Duration: 1 day
VISITOR_INFO1_LIVE: Tries to estimate user bandwidth on pages with built-in YouTube videos.
Duration: 179 days
YSC: Registers a unique ID to keep track of the YouTube videos that the user has seen.
Duration: only during the current session
yt-remote-cast-installed, yt-remote-fast-check-period, yt-remote-session-app, yt-remote-session-name: Saves the user settings when retrieving a Youtube video built into other web pages.
Duration: only during the current session
yt-remote-connected-devices, yt-remote-device-id: Saves the user settings when retrieving a Youtube video built into other web pages.
Duration: persistant / permanent
BandsInTown
We use BandsInTown to embed facebook events into our website. This plugin uses the following cookies: facebook connect, ScoreCard Research Beacon, Google Analytics, Facebook Custom Audience and Facebook Pixel. According to our information, your anonymous data will be shared with third parties. We do not collect personal information in the context of the BandsInTown embed.
_fbp
Duration: 15 months
ONLINE PRESENCES IN SOCIAL MEDIA
We operate social media sites to promote our services, events and promotions. The processing of the personal data of users is thus based on our legitimate interests (Article 6 (1) lit. DSGVO).
You have the right to request information about which data is processed (Art. 15 GDPR), to complete incomplete data as well as to have incorrect data corrected or deleted (Art. 16, 17 GDPR). A right of cancellation does not exist if the processing is necessary to fulfill a legal obligation or to assert, exercise or defend legal claims. Under certain circumstances, you may also request the restriction of the processing of your data (Art. 18 DSGVO) as well as the processing of your data (Art. 21 DSGVO). You have the right to receive the data that you have provided in a structured, common and machine-readable format and to transmit this data to another person responsible (Art. 20 DSGVO).
If your data is processed on the basis of your consent, you have the right to revoke this consent at any time. The revocation does not affect the legality of the data processing up to this revocation.
For requests to exercise your rights as well as the revocation of your consent, please use below links of the respective provider:
Facebook: In its decision of 5 June 2018, the European Court of Justice (ECJ) ruled that the operator of a Facebook page is jointly responsible with Facebook for the processing of personal data: www.facebook.com/legal/terms/ page_controller_addendum
You can find further information in the Facebook privacy policy: www.facebook.com/policy.php
Opt-out: www.facebook.com/settings?tab=ads, www.youronlinechoices.com/
Instagram: Datenschutzerklärung/ Opt-Out
Google/ YouTube: Datenschutzerklärung, Opt-Out
Soundcloud: Datenschutzerklärung/ Opt-Out
Server logfiles
By visiting our website through the program used by the visitor to display websites (the so-called "web browser" or just "browser"), which the user has installed on the device he is using, the following information is transmitted to our web server:
the IP address of the requesting terminal (the last two digits of the IP address are truncated)
Date and time of visiting our web pages
Indication of the time difference between requesting host and web server
Details of the request or specification of the retrieved file that has been sent to the user
access status (successful transmission, errors etc)
amount of data transferred in bytes
the website from which the user accessed
the browser used by the user, the operating system, the interface, the language of the browser and the version of the browser software.
This information is stored on our web server in a so-called log file (in a "logfile"). Due to the shortened IP address, it is not possible for us to establish a personal reference.
Storage in log files is done to ensure the functionality of the website. In addition, the data is used to optimize the website and ensure security. An evaluation of the data for marketing purposes does not take place in this context. This constitutes a justified interest pursuant to Art. 6 (1) (f) DSGVO.
The log files are stored for a period of 190 days.
WordPress plugin "iThemes Security"
The plugin "iThemes Security" makes useful and sometimes indispensable precautions to ensure the security of this website.
a) Matching the IP address of the user with the list of known attackers developed by HackRepair.com
This checks whether the user is identical to an attacker from the list in order to immediately and irrevocably exclude him from using this site. The synchronization takes place locally on this server, no IP addresses are forwarded to external servers. The IP address of the user is not stored.
b) Local brute force protection
Access to our website is monitored by "iThemes Security". Unauthorized access attempts are stored in our database including IP address for 14 days and then deleted. In the case of several unlawful access attempts, storage and blocking of the IP is planned beyond this period.
c) Network brute force protection
This site is part of a network that protects against common brute force attacks. To provide this protection, the IP address of visitors attempting to log in to the site is shared with a service provided by iThemes.com. For more details on privacy see iThemes Privacy Policy. ithemes.com/privacy-policy
External links
Our site contains links to external websites over which we have no control. Therefore we can not accept any responsibility for their content. The respective provider or operator of the pages is always responsible for the contents of any Linked Site. The linked sites were checked at the time of linking for possible violations of law. Illegal contents were at the time of linking not identifiable.
Contacing Us
If you contact us by e-mail the specified data for the purpose of processing the request and in case of
follow-up will be stored for six months. We will not foward or sell personal data to third parties.
Your rights
In principle, you have the rights to information, correction, deletion, restriction, data portability, revocation and opposition. If you believe that the processing of your data violates data protection law or if your data protection claims have otherwise been violated in a way, you can complain to the supervisory authority. In Austria, this is the data protection authority.
Wolfsheart-Music
Linke Wasserzeile 2
1230 Wien
Austria
+43 (669) 124 460 85
office@wolfsheart.eu