BOOKING
Native American Flute Player/Award-Winning Recording Artist, Wolfsheart, performing for a variety of functions from concerts, conventions, multicultural events, festivals, churches, schools and encampments.
He also offer a dynamic and informative children's program.
Concert Performances:
Booking Information Europe:
BCI – Music Entertainment:
phone: +43 (0) 699 125 460 85
office@wolfsheart.eu
U.S. Booking Agency:
Donald Blackfox
CEO Spirit Wind Entertainment Group:
spiritwindrecords@live.com
www.spiritwindrecords.us
CONTACT WOLFSHEART
email: office@wolfsheart.eu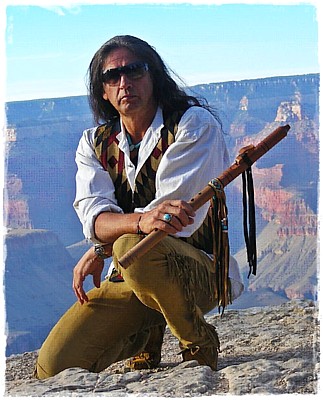 Privacy Policy
Cookies
YouTube
We embed videos from YouTube using YouTube's privacy-enhanced mode. This mode may set cookies on your computer once you click on the YouTube video player, but YouTube will not store personally-identifiable cookie information for playbacks of embedded videos using the privacy-enhanced mode. To find out more, please visit YouTube's privacy policy (YouTube is a service from Google).
iTunes widget
On some of our pages we use the Apple iTunes widget. Please find more information in Apple´s privacy policy.
BandsInTown
We use BandsInTown to embed facebook events into our website. This plugin uses the following cookies: facebook connect, ScoreCard Research Beacon, Google Analytics, Facebook Custom Audience and Facebook Pixel. According to our information, your anonymous data will be shared with third parties. We do not collect personal information in the context of the BandsInTown embed.
Contacing Us
If you contact us by e-mail the specified data for the purpose of processing the request and in case of
follow-up will be stored for six months. We will not foward or sell personal data to third parties.
Google Web Fonts
For uniform representation of fonts, this page uses web fonts provided by Google. When you open a page, your browser loads the required web fonts into your browser cache to display texts and fonts correctly.
When you call up a page of our website, your browser makes a direct connection with Google servers. Google thus becomes aware that our web page was accessed via your IP address. The use of Google Web fonts is done in the interest of a uniform and attractive presentation of our website. This constitutes a justified interest pursuant to Art. 6 (1) (f) DSGVO.
If your browser does not support web fonts, a standard font is used by your computer.
Further information about handling user data, can be found at <a href="https://developers.google.com/fonts/faq" target="_blank">developers.google.com/fonts/faq</a> and in <a href="https://www.google.com/policies/privacy/" target="_blank">Google´s privacy policy</a>.
Font Awesome
For uniform representation of fonts, this page uses web fonts provided by Fonticons, Inc. When you open a page, your browser loads the required web fonts into your browser cache to display texts and fonts correctly.
When you call up a page of our website, your browser makes a direct connection with Fonticons servers. Fonticons thus becomes aware that our web page was accessed via your IP address. The use of Web fonts is done in the interest of a uniform and attractive presentation of our website. This constitutes a justified interest pursuant to Art. 6 (1) (f) DSGVO.
If your browser does not support web fonts, a standard font is used by your computer.
Further information about handling user data, can be found at fontawesome.com/help and in <a href="fontawesome.com/privacy" target="_blank">privacy policy of Fonticons, Inc.</a>.
External links
Our site contains links to external websites over which we have no control. Therefore we can not accept any responsibility for their content. The respective provider or operator of the pages is always responsible for the contents of any Linked Site. The linked sites were checked at the time of linking for possible violations of law. Illegal contents were at the time of linking not identifiable.
Your rights
In principle, you have the rights to information, correction, deletion, restriction, data portability, revocation and opposition. If you believe that the processing of your data violates data protection law or if your data protection claims have otherwise been violated in a way, you can complain to the supervisory authority. In Austria, this is the data protection authority.
Wolfsheart-Music
Linke Wasserzeile 2
1230 Wien
Austria
+43 (669) 124 460 85
office@wolfsheart.eu