WON BEST SPIRITUAL RECORD AT
THE NATIVE AMERICAN STYLE FLUTE AWARDS 2020!
Native American Flutes & Handpan:
Music For Meditation & Relaxation:
"All Life Springs From Water" is a melodic and relaxing album featuring the Native American flute combined with handpan, keyboards and hypnotic rhythms that take the listener on a healing journey of life come full circle.
Haunting, hypnotic, flute melodys embraced by Hang and piano.
These 11 tracks take the listeners on a mystical musical journey to Water, Life, Universe, all the while honoring the distinct voice of the Native American flute.
A wonderful balance of heart-felt soundscapes and inspiring melodies make Wolfsheart's new CD an exceptional listening experience.
Order your copy today!
01. F.L.O.W. 7:21
02. Heartbeat 5:23
03. Silent Moon 6:23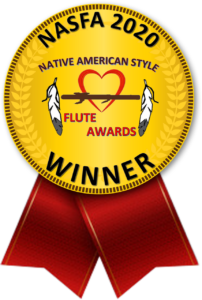 04. Sun Prayer 4:40
05. Your Spirit Voice 6:43
06. Pure Bliss 5:48
07. In Children's Eyes 5:16
08. River Of Life 6:14
09. Turquoise Crystal 4:40
10. Butterfly Dance 4:44
11. On The Edge Of Silence 4:12
Label: G.I. Records / Released 2020