COME & FEEL THE NATIVE SPIRIT!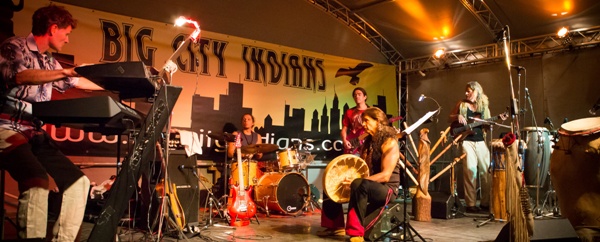 Big City Indians started in 1997 with an exceptional intention: They perfected a unique musical hybrid that merged contemporary rock music, roots, pop and folk with an earthy, Native American flavor. These endeavors resulted in a rock band producing soulful songs and focusing on World Music. Big City Indians' very special and outstanding blend of global and western style music also attracted the attention of the Music Industry: The band has garnered international awards, six Silver Arrow Awards and three Native American Music Awards in US including Best Group of the Year.
In 2013 they solidify their commitment to the world's largest environmental event "Earth Hour"; their single, "Earth Is Crying – Dry Her Tears" became the anthem for the official Earth Hour Austria.
Five studio albums, several CD Compilations, DVD´s and many successful live shows in Europe and the US verify the magnetic energy of the Band's concept: Based in Vienna, Big City Indians have created a unique and characteristic sound of their own, thus founding not only a strong reputation, but also a very loyal fan base.
The Native People Magazine writes about Big City Indians: "The music is quite good in cinematic fashion, with soaring chants, smooth flutes and driving rock beats from this Vienna, Austria-based quintet."
THE MUSIC: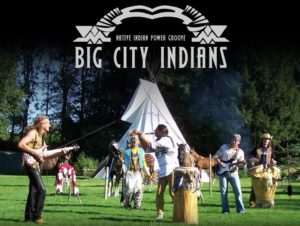 Big City Indians has been spreading this unique emotional energetic groove since 1997. The quintet has adopted an original sound and created a wider range of melodies incorporating influences of Native American musical tradition. The mixture of rock, roots, fusion, blues and continual songwriting attracts numerous tribal beats, mystic ethereal keyboards, rocking guitar riffs, mysterious whisper of Native American flute, funky basslines and meditative sounds. This creates a melting pot of sounds which is deeply grounded in the earth, reaching out to the heart of the listeners and speaking the common language of mankind .
Big City Indians made history in Native American Music being the first Europeans ever to achieve the prestigious "Native Heart of the Year" award at the 12th and 13th annual Native American Music Awards in 2010 and 2011 and won a Nammy for BEST GROUP OF THE YEAR in 2013.
THE LINE UP:
Wolfsheart: (lead vocal / perc./native flutes)
Chris Pogats: (guitar / perc.)
Gigi Skokan: (keyboards / harmonica / perc.)
Werner Haller "Firefly": (bass / perc.)
Martin Peham (drums)
Roy E. Pete: (traditional vocals / dancer)
LYRICAL PHILOSOPHY:
The group's intention is to create music that moves energy and emotions between ethnic elements and smooth rock´n roll beats. The music invites to dance and it transmits messages straight from the heart. Quoting lead vocalist, flute player and bandleader Wolfsheart underlines the sincere concern of the band members for our future generations: "We think it is extremely interesting to explore a world which is constantly changing like musical sounds. Created in the past of myths and legends our native sound adapts to the life and time we live in now. Our lyrics show a connection of Native American life, its myths, its spiritual world and how we feel about it. Native American culture consists of ancient knowledge and its relationship to Mother Earth. The message we send out to the world stands for freedom and acceptance of the Native American as a vital part of our world's historical culture. Our music is a direct reflection of the union of past, present and future."
DISCOGRAPHY:
TUWA (2012)
Tribal Vision (2009)
DVD Live Rising Spirit (2005)
Native Heart – Urban Soul (2003)
Uncle Peyote (1999)
BOOKING:
Big City Indians are available for festivals & fairs, concerts, clubs, dances, seminars, school/children's presentations, arts or museum appearances and events of any kind.
To bring this exciting group to your event please contact:
BCI – Music Entertainment:
booking@bigcityindians.com
phone: +43 (0) 699 125 460 85